Educational Mini Robot Toy Walking Dancing Mini Robot Music Kids Mini Robot Toy
Your son's birthday is coming up and you still don't know what to give him? Are the toys you find on the market boring? None suits your budget? Well, you are in luck because we have just launched this new mini robot toy on the market in a special offer, so that your baby can spend hours and hours playing, having fun and entertaining themselves thanks to the fact that this mini robot has an intelligent flashlight screen that offers different colors, shapes and illuminates as much as a light projector or lamp.

This miniature robot has the ideal size so that the little ones in the house can easily transport it and take it everywhere. Our robot is not like the others on the market, because it responds, moves, turns with its legs and hands, and even moves with the music, it also has a system of wheels on the feet for greater stability and balance.

This mini robot toy will be your child's best friend, so don't hesitate and buy it now!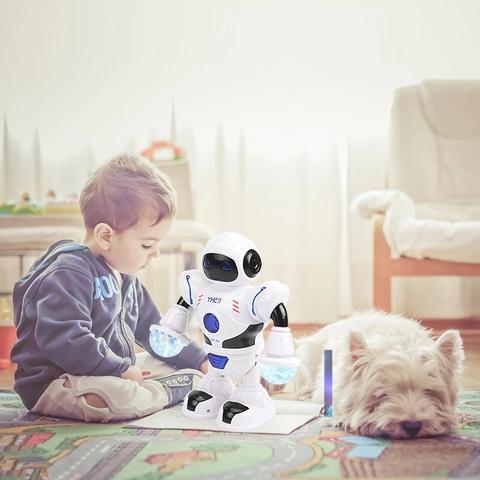 Mini robot toy features:
It moves to the rhythm of the music.

Built-in lighting system.

Easy to use.

Move your legs and arms.

Lower wheels for better balance.

Lights of different colors.
Specifications:
Material: Plastic + electronic component.

Gender: Unisex.

Battery: 3 * AA (not included).

Product size: 19.5 * 8 * 22cm.