Improves Hand-Eye Coordination - Learn how to control
the pucks and aim the direction, also get the ability of
slinging strategy!
Exciting Family Competition - Have thrilling fun with the
family!
Everyone Can Play -You never know who will be the best!
A customers said," someti mes the 4 year old wins, but
other times grandma wins!"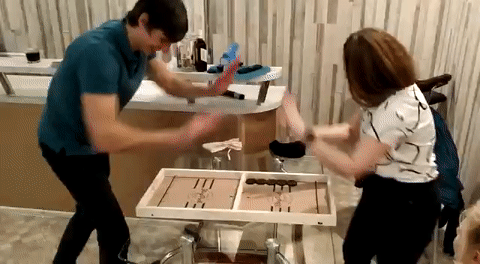 Super Easy to Learn How to Play - Sling all of the pucks
to the opposite side and get win!
High-Quality Materials & 100% Safe - It is made of high-
quality wood with a very DURABLE BAND for fast slinging8
cks, suitable for children age 4 and up
What's Included?
wooden game board +10 game pieces +2 durable bands
How To Play:
Each player starts with 5 pucks
To start, players say 3, 2,1 GO!
Players then shoot the pucks simultaneously
The first player to clear his side of the board wins!
Specifications:
Material: High-Quality Wood, Strong Elastic Band
Game Size: S 35 22*2.5 cm, L 54 29.5'2.5 cm
Includes: wooden game board + 10 game pieces +2
durable bands