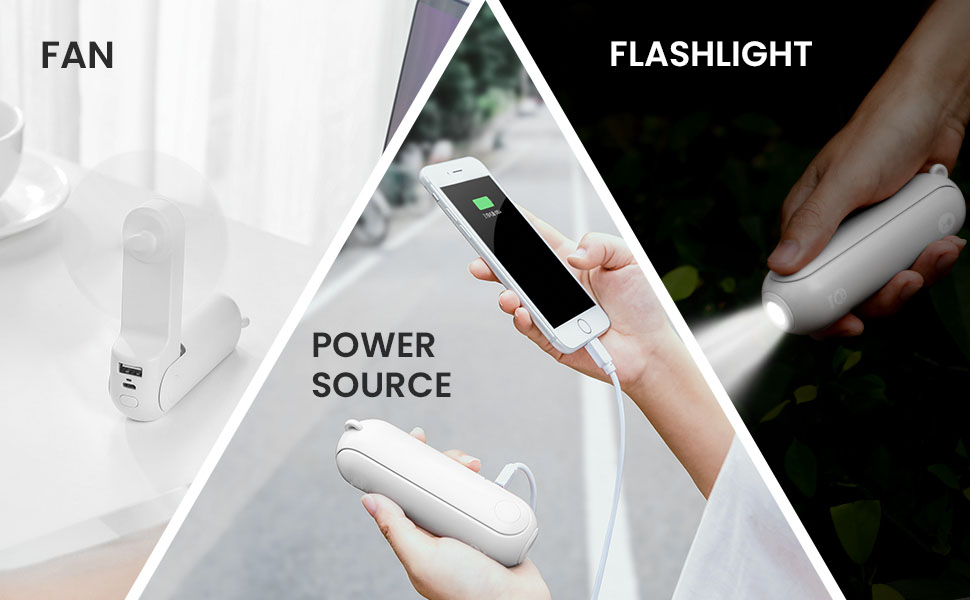 Your Travel Partner – Personal Rechargeable Mini Fan, Power Bank and Flashlight 3 in 1
You can enjoy the below benefits:
1. Long battery life (14 to 21 hours)
2. Mini figure ( 4.7*1.4*1.4 inch, weight-4.4 ounces )
3. Power bank
4. Unique bright flashlight
5. Rechargeable design (battery included)
6. Easy to rechargeable (power bank, laptop and USB charger)
7. Work on 110/220 Volt
8. Strong airflow(2200-3300 rpm)
14-21 Battery Life

Working Hours:

21 hours at 1 speed
14 hours at 2 speed

It's been running continuously, the fan body does not get hot at all due to the high quality 18650 battery.

Strong Airflow

Two settings:

One speed is 2200 rpm,
Two speed is 3300 rpm

Charge Pal

With a unique design, this battery-operated fan performs dual purpose of keeping you cool and charging your phone.
Pocket Size

Size Information

Length:1.4 inch
Height: 4.7 inch
Width: 1.4 inch
Weight: 4.4 ounces

It folds up very compactly and fits easily into your purse.

Soft Blades

With special soft TPE material, the blades are very safe. If you accidentally touch the rotating blades, the soft blades will automatically stop and keep you safe.

Flashlight

The flashlight is quite bright and can be useful in dark areas or if electricity is out.

Just long press the power button to
Specification:
Size: 1.4*1.4*4.7in
Weight: 4.37 Ounces
Color: Pink/White
Package Included: A Handheld Mini Fan