This is a great product for any adult trying to pass time and relive childhood memories or the younger generation that never experienced the classic arcade games we all know and love
Mini Arcade Game Console
Catch the enchantment of past computer game arcades and feel the nostalgia with this retro mini arcade machine. The compact and lightweight gaming framework brings back genuine excitement and joy that you felt when you were a kid playing on a retro computer game. Bring an excellent old arcade machine everywhere you go and play as you wish with this mini arcade game console. Extremely portable, you can fit the whole device inside a bag.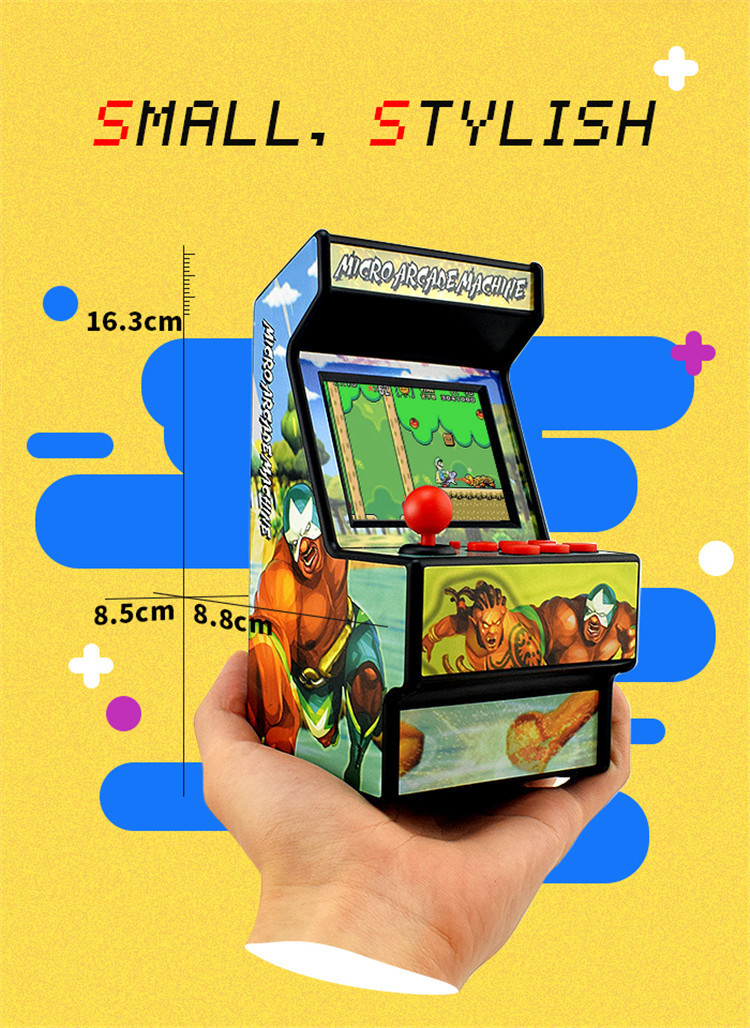 156 Full-Color Games
Bring the mini arcade machine along with you on your travels and give your children 156 types of amusement in just a palm. This device will surely engage and entertain your kids as you travel and drive long stretches of road that will otherwise bore your children to death. With tons of different games to browse through, your children's' choice will provide ongoing interaction until you reach your destination. Discover numerous possibilities in one handheld framework that looks and plays like a credible "old fashioned" computer game from your childhood. The device includes power buttons and indicators, speakers, volume buttons, a charging port, and an AV-out port.
Play-by-Play Action
Not only made for kids, but the mini arcade is also perfect for adults. It is an extraordinary purchase for relentless computer gaming entertainment.  The device runs on rechargeable batteries so you can continuously play as you wish. Fully functional, the mini invention features a 2.8inch colorful display with a functional joystick that can be moved in all directions. It also includes responsive buttons. You can use these for bouncing, jumping, climbing stepping stools, dropping bombs, guiding vehicles, and so forth. You can also attach the device and project the screen on another monitor or TV for a wider screenplay. Miniature in size, the device only measures approximately 16.3cm in height, 8.8cmin length and 8.5cm in width.
Features:
Built-in 156 different games for Sega Megadrive.
2.8-inch colorful LCD display.
Support AV transmission to the TV.
The joystick can be in 8 directions
With rechargeable lithium battery.
Delicate and compact, easy to carry.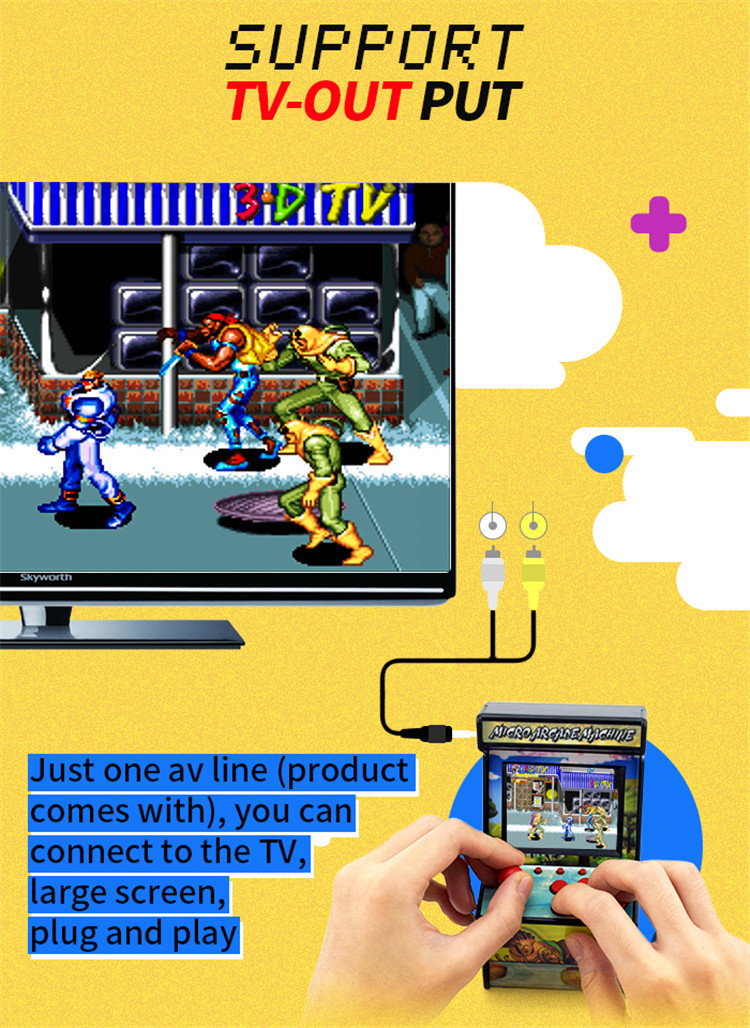 Specifications:
Brand: DATA FROG
Type: 16 Bit Arcade Game Console
Game: Built-in 156 Classic Games
Output: Support AV Transmission
Battery Capacity: 600mAh
Size: 85 x 88 x 163mm
Package Included:
1 x DATA FROG Arcade Game Console
1 x Lithium Battery
1 x AV Cable
1 x USB Charging Cable
1 x User Manual