Wall Globs are 2021's coolest glow in the dark toy and they look great on camera! Whether you use them to pass the time, make awesome looking videos, or play with your friends, Wall Globs are guaranteed to impress... and improve coordination!
With our new latex Technology, Wall Globs are the brightest toys around. They stick to most flat surfaces and never leave sticky residue behind. If they start to lose adhesive, a quick rinse under the faucet will make them brand new!

BORED IN BED? 
These glow in the dark ceiling balls will keep you entertained for hours!
THE ORIGINAL WALL GLOBS
Wall globs can squish, stack, sling and more. That's why everyone is loving them!
You can use them as stress balls or play with them in bed. These all inclusive balls will never leave a sticky residue behind and remain sticky even after being washed.

Relieve stress: Simply release the stress of the soft pressure ball, which is different from many other stress relief balls. These sticky balls can be thrown on the wall, waiting for the ball to fall slowly and then catch it. They have high tear resistance and will not break. A nice casual game, suitable for classroom, home or office, very suitable for teachers, students and anyone else.
Safe and practical: These sticky balls are made of environmentally friendly TPR material, 100% high-quality, non-toxic, and soft like QQ candy. The pressure release ball is soft and will not harm the child, thereby enhancing the emotional communication between parents and children.
Educational toys: the size is appropriate, the sticky ball can exercise the child's finger grasping ability, and will not let the baby swallow it by mistake; there are four colors of pink, green, blue and yellow to cultivate children's perception of color.
Durable and easy to clean: feel free to pinch,After use sticky squash decompression toy is dirty the surface will absorb some dust, and the viscosity will decrease, and the viscosity will be restored after washing in water.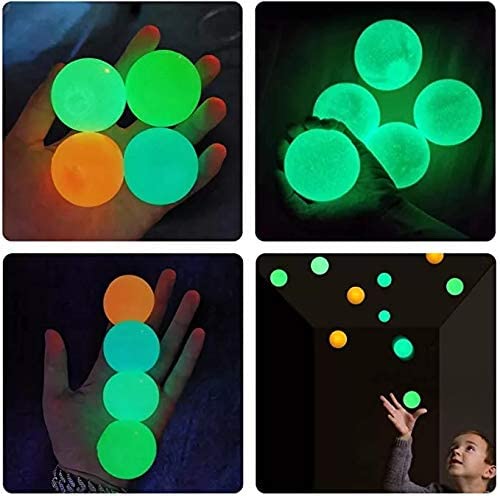 Specifications:
Name: sticky wall toys
Size: about 4.5cm/1.77in
Material: eco-friendly TPR soft
Color:  Random
Package Included:4x glow sticks bulk