Are you looking for a corn thresher to make the process of peeling corn easy?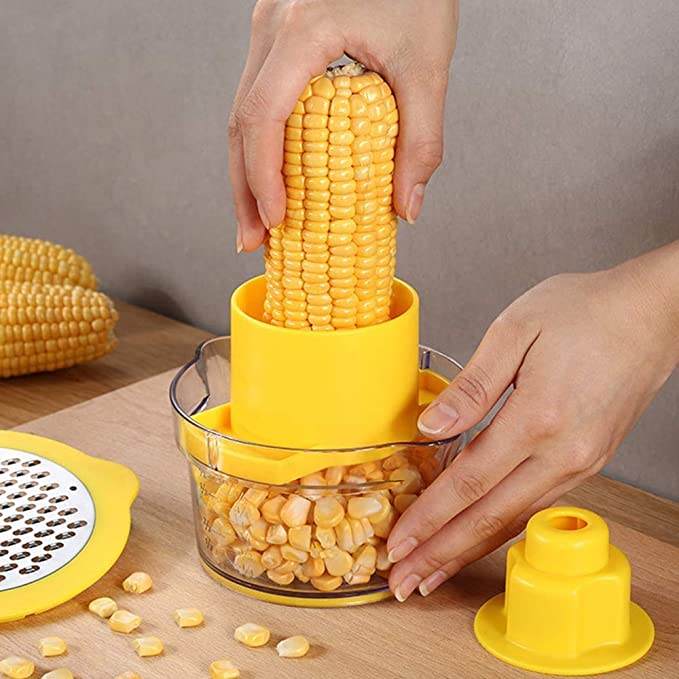 This Stainless Steel Corn Thresher provides you a slick way to remove corn niblet from the cob and quickly strips corn kernels off cobs.
Multi Function Corn Stripper
Quick peeling, perfect plump
1.The stainless steel blades of these corn stripping tools allow you to strip an entire cob of corn in just seconds,Simply push a cob of corn through the stripping tool with a twisting motion to remove all of the delicious kernels. 2.The corn stripping tool with the measuring cup kitchen gadget ,can hold corn kernels, and keep food more sanitary and safe, you don't worry the corn will mess. 3.With safe pusher hand protector to push the end, don't worry the hand will touch the blade.
Step
One

Assembly the corn stripper on the container

Two

Confirm the slots match well

Three

Push and twist the cob with full corn through the stripper
Step 2
Four

Reverse hte half stripped cob,pue the stripped end into safe pusher

Five

Push and twist the cob with half corn through the stripper by pusher

Six

Remove the otally stripper cob and the corn stripper, then you can move on to cook as you like
High value tableware and kitchenware
Multifunctional use

Ginger, mashed potatoes, etc., convenient for making complementary food for babies

All types of corn can be used

Easily peel off the corn kernels, saving time and improving the convenience of life

Start a gourmet journey

Small and exquisite, add interest to the home environment
Specification
Material: PP+PC+Stainless Steel
Weight: 7.4 ounces
Size: 5.28 x 5.2 x 3.39 inches
Package Include: A Magic Corn Thresher