Embroidery made fun and easy with the Magic Embroidery Pen!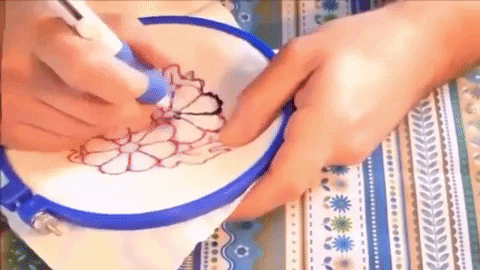 Make your next embroidery piece so much simpler with our Magic Embroidery Pen! Simply thread the punch needle and by using a punching action you can create intricate designs in minutes! You can also embroider on any type of fabric, clothing, tablecloths, napkins, towels, quilts… the possibilities are endless!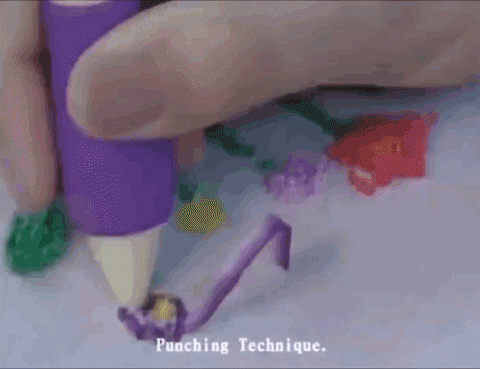 You can create standard designs and unique 3D designs with the Magic Embroidery Pen! Have fun doing punching technique and create your own unique embroidery designs its a new year, it's a new you! Learn a new hobby you'll be itching for knitting!
Easy to use – Simply thread the punch needle and start punching to create complex designs in minutes.
Works for all skill levels – Create standard designs as well as unique 3D Designs in a breeze.
Works for left and right-handed people – the handle is ergonomically designed to fit both styles.
Stress reliever –The magic embroidery pen kit is designed to make your work more efficient. In the process of embroidery, whilst relieving stress. Make a beautiful piece of artwork that can be done by The Magic Embroidery Pen.
Multiple sizes – With 3 different sizes of punch needle embroidery; Small, medium or large, you can do many pretty and delicate Pieces of Art, using techniques such as backstitch, loop, satin stitch and more! You can transform any textile item with patterns, writing, flower patches or more!
How to use the embroidered punch needle?
Insert threader into needle shaft until the folded end of the wire appears at the other end. Place thread inside the wire loop.
Put threader back through the needle shaft emerges from the needle tip. Remove thread from the threader.
Insert threader through the eye from the back (rounded) side to the front (beveled) side. Place thread inside the wire loop.
Pull the needle eye. Remove thread from the threader, leaving enough thread.
Repeat the process. A beautiful piece of artwork can be done.
NOTES
Please allow some slight measuring deviation due to manual measurement.
Due to the different monitor and light effect, the actual color of the item might be slightly different from the color showed on the pictures
SPECIFICATIONS
Material: Durable ABS plastic material
Needle Diameter: 1.3/1.6/2.2mm
Needle Length: 3.5cm
Handle Length: 13cm.
PACKAGE INCLUDES
1 x Magic Embroidery Pen
1x 1.3mm Punch Needle
1x 1.6mm Punch Needle
1x 2.2mm Yarn Needle