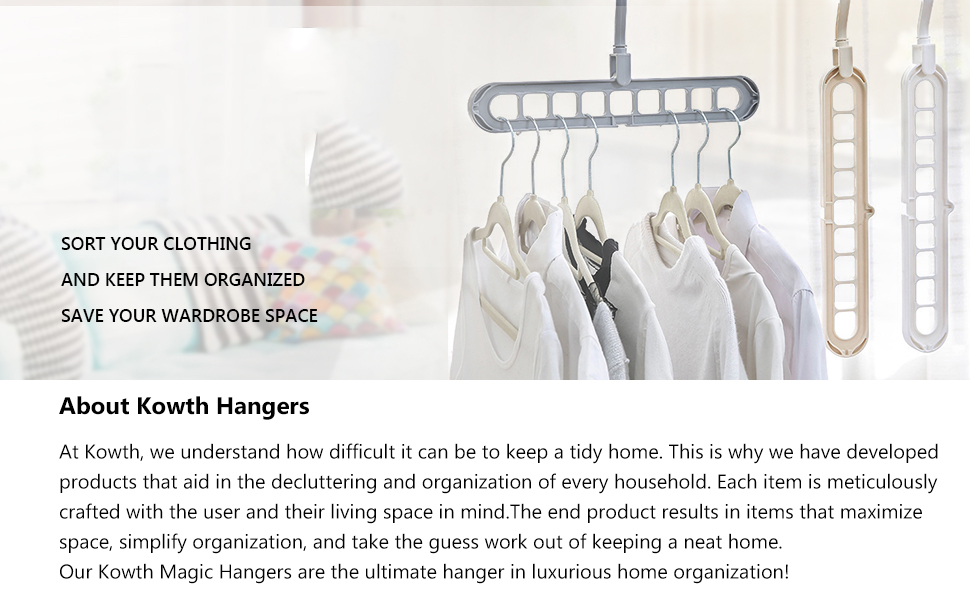 Space saving hangers
The rotate folding hangers can save 60% of the wardrobe space and keep the clothes neat, no wrinkles.If you have a little closet in apartment, dorm or other limited space, this KOWTH space saving hanger will greatly save your space.
Organize your wardrobe as you like.
How to save space
2 ways to use
When the magic hanger is used horizontally, you can organize your clothes and rotate freely.
When the magic hanger is used vertically, you can save your wardrobe space. Simply slide the hook to either end and release your hand for vertical use.
Convenient Design
Plus-Size Friendly
Maximize Closet Space
Incredible Value
Note:
1.Please keep balance when used horizontally, unbalanced, it may cause the hook lock to fall off.
2. This product is suitable for the drying tube with the diameter below 3.2 cm.
Neat your wardrobe
Fashion design with multi-function

Exquisite design with lots of colors, it can be used as a standard hanger for drying clothes, pants,ties etc. It will be perfectly integrated with your wardrobe.

Normal Size with Large Capacity

Our space saving hanger is standard size but with large capacity, to store multiple clothes on a single one. And the hook mouth diameter can be up to 3.6 cm, which can be applied to a wider range of wardrobe rods.

Rotate & Anti-skid & Folding

It is made of high-quality PP material, porous non-slip hanger hook when used horizontally. The edges of the hangers are round and smooth, not hurting the hands, protecting the clothes perfectly.
Show details
High quality material

Windproof and non-slip, increase weight bearing, and can withstand 10KG

360 degree rotation

The hook can be rotated to get rid of a single angle.

Mobile hook

The hook can be moved left and right. Thereby achieving vertical suspension.

Beautiful design.

The fashion design makes your wardrobe more beautiful and tidy.
Product Information:
Specifications:
Size: 13.2in x 6.7in
Weight: 3.1oz
Color:Gray/White/Green/Pink/Yellow/Black/Beige
Package include:
3x Kowth Space Saving Clothes Hangers