Pop & spin with the same fidget toy!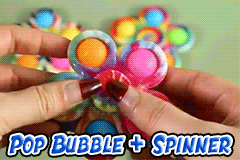 This fidget toy combines the thrill of spinning with 5 colorful poppable bubbles that kids can pop for endless fun! The poppers are made with decompression silicone, stimulating the sensation of bubble wraps. Whilst we optimize the spinning experience with a high-speed bearing, ensuring a smooth yet stable spinning. Let's pop the colorful bubbles in and out or give the tie dye-patterned, colorful body a flash spin for lots of fidgety fun!
Pick this handy fidget toy, you'll get 2 popular anti-anxiety tricks – Switch your finger games from popping to spinning and vice versa! Therapeutically relieves anxiety, stress, boredom, fatigue and more.
Keep your fingers busy while enjoying these relieving finger games!
FEATURES:
Popper + Spinner
Practically combines

the thrill of spinning

with 5

colorful poppable bubbles

that kids can pop for

endless fun

.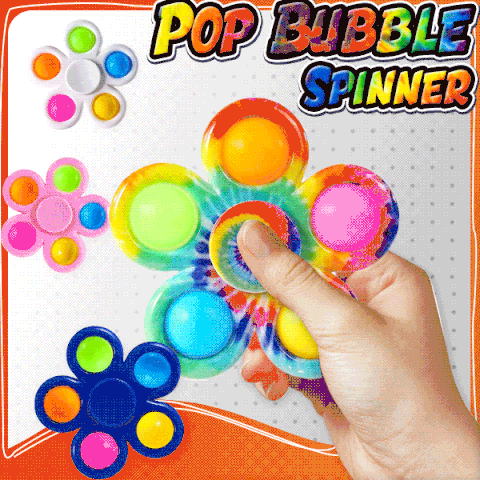 Colorful Design
This fidget toy is crafted with

multi-colored pop bubbles

, plus a

tie dye-patterned, colorful body.

Rainbow-styled design creates a

vibrating visual effect

especially when spinning. Ideal for drawing

great attention from kids!

Daily Stress Reliever
Popping & spinning help keep you

occupied, focused and satisfied

. A fidget toy that delivers

pleasant popping sound, amazing sensory interaction

plus spinning.

Therapeutically r

elieves stress, anxiety, boredom, tension

and more! Perfect for kids, students, business people, and those with fidget problems, anxieties or ADHD.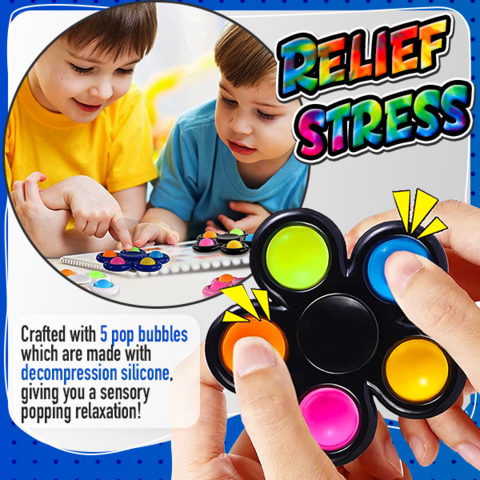 Ultimate Spinning
Crafted with a

high-speed bearing

at the center, ensuring a

smooth yet stable spinning

.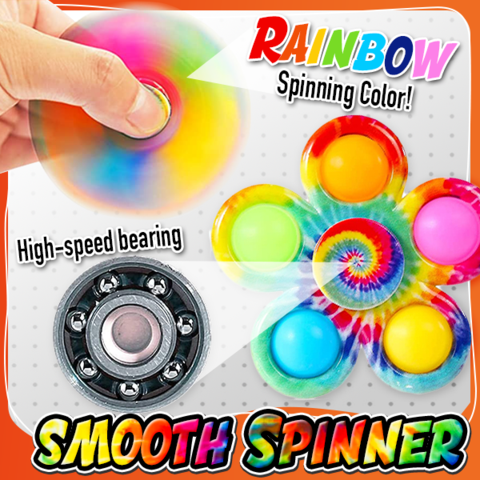 Premium Material
Made of high-quality,

decompression silicone

with a smooth,

hypoallergenic

surface.

Completely safe for kids

and is

lightweight to carry

, ideal for your daily use.

Water-proof & Wear-resistant
SPECIFICATIONS:
Material: Silicone, BPA-free ABS
Size: 9 x 26cm
Color: Tie-dye rainbow, Tie-dye dark rainbow, White, Pink, Blue, Black
Suitable Ages: 3+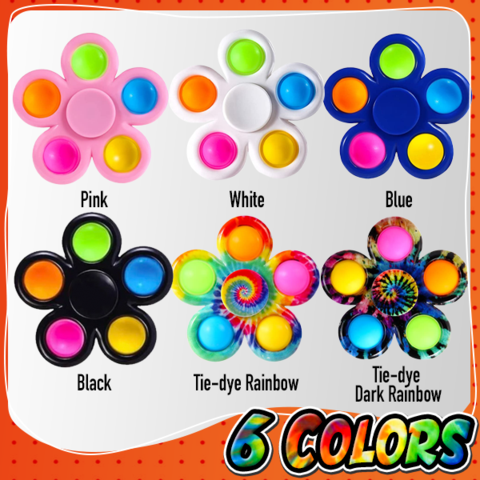 PACKAGE INCLUDES: