Do you want to enjoy a fireworks show with the whole family in a safe and fun way?
These diffraction glasses turn any light source into an explosion of colors, intensifying your experience!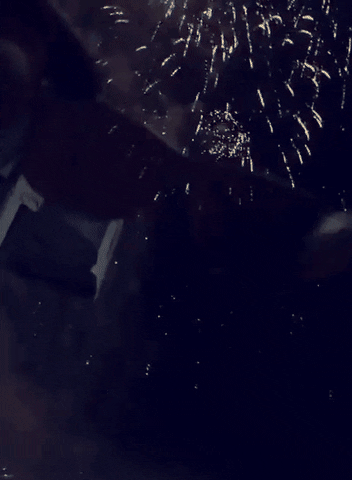 Premium Fireworks Diffraction Glasses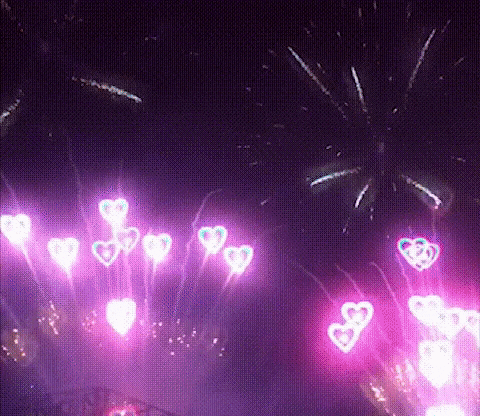 Premium Diffraction Glasses provide the best quality, craftsmanship, and most importantly the best diffraction effect on the market. Created with style in mind, these hand-crafted Ultimate Diffraction Glasses capture the essence of a rave and allow you to see the festival through brand new eyes.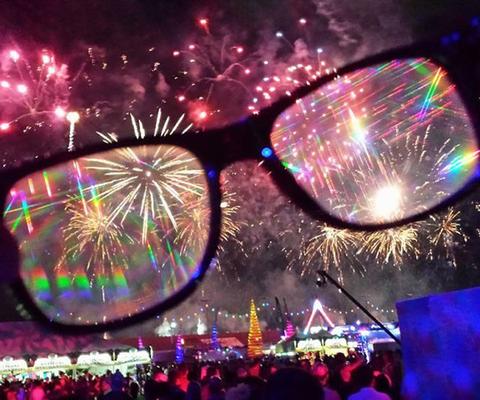 PATENTED LENS TECHNOLOGY: Used in our glasses produces remarkable clarity and clear shapes. We have updated our original heart diffraction glasses to include a stronger frame and lenses that are reinforced and guaranteed to NOT come off. When you're enjoying fireworks with the family or at your next big EDM festival, these glasses will make the lights explode in rainbows!
HIGHEST QUALITY AVAILABLE: Heart Diffraction Glasses are Water Resistant, Feature Stainless Steel Hinges and our True Flex Plastic Frame is Virtually Indestructible. This Makes These Glasses, The Highest-Quality Available On The Market.
TO USE: Stand in front of a light source and face a point of light. Our glasses will make the lights explode in colors like a felix or rainbow hearts. The phoenix effect featured in these shades is only available at theduvely, you can't get them anywhere else!
And here's how it works:
✔ Fireworks and Firework Shows.
✔ Science class and learning the study of light waves.
✔ Holiday and Christmas lights
✔ Festivals and carnivals.
✔ Concerts and Music Festivals
✔ Lasers.
✔ LED Gloving and orbit light shows.
✔ Enhancing any light shows or performances.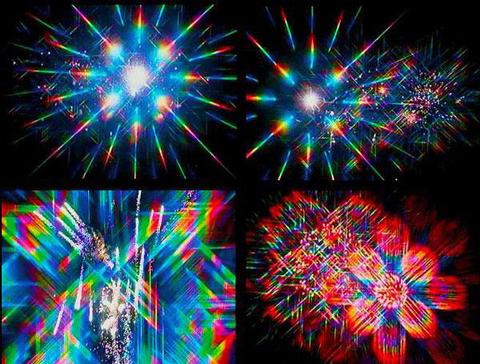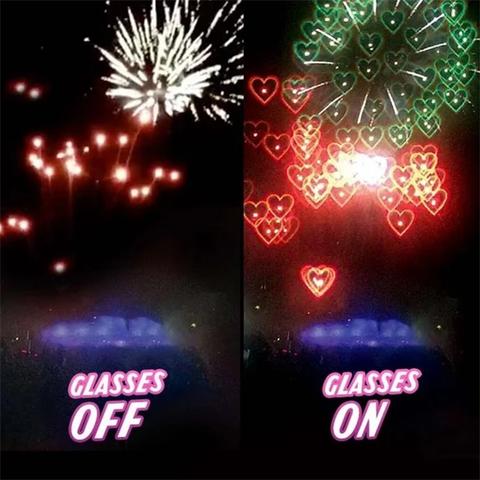 Frequently Asked Questions (FAQ)
Q: How do these lenses differ from the kaleidoscope lenses as far as view from the wearer?
A: The diffraction lenses bend and fragment the light that you see, creating a rainbow-like glow around any bright points of light. The kaleidoscope lenses creates multiple symmetrical views, creating more of a reflective patterned perspective.

Q: My husband has a fairly large head - do you think he could wear these comfortably?
A: From the outside across the lenses bow to bow measures 5 1/2 inches when bows spread the open ends can reach as much as 8 inches without feeling like it's about to snap.

Q: Is it viewable with one eye?
A: Yes, the awesome visual effect in Premium Diffraction Glasses can indeed be viewed with one eye!

Q: What are the shapes it creates?
A: Currently we have two designs of the shapes that create our Premium diffraction glasses, these are the shape of the felix and the heart.
SPECIFICATIONS:
✔ Lens width: 55 millimeters
✔ Lens height: 45 millimeters
✔ Bridge: 19 millimeters
✔ Arm: 145 millimeters
✔ Indestructible True-Flex PVC Frame.
✔ 3 Times the Diffraction of Competitors.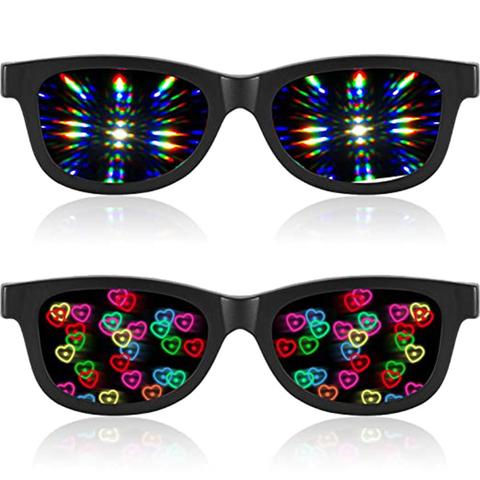 PACKAGE INCLUDES:
✔ 1 x Premium Fireworks Diffraction Glasses