MEET THE SHAKE IT UP CUTE CACTUS PLUSHY TOY, A HILARIOUS DANCING TOY THAT WILL PROVIDE ENDLESS HOURS OF PURE ENTERTAINMENT!
This Poor Dancing cactus is so lonely right now and he is looking for his new buddy.
You can take him out of our store and may consider giving one. This cactus is a true dancer and a real singer. You can watch and learn some moves from him. You can also make a duet with him.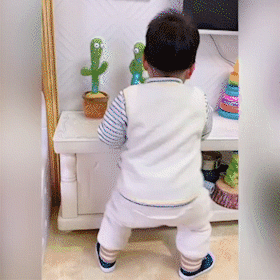 Dancing Cactus Toy - Sing 3 Cheery Songs - Fidget toys - cactus plush toy Gift purpose: the most suitable birthday gift for children. Cheerful music and dancing are very suitable to create a pleasant atmosphere and suitable for parties. Holidays, Christmas gifts, Mother's Day gifts, Christmas gifts, essential gifts for birthday parties, very suitable for holiday gifts and surprise gifts for girlfriends.
Singing cactus brings joy: cactus toy can dance and bring a lifetime of joy to children, which is very helpful for early education.attracting attention. The singing cactus toy will beat with the rhythm
dancing cactus plush in pot is also home and office decorations, creating a good office atmosphere for you. cactus plush toy is a great choice as a gift for your colleagues!
Cactus Dancing Installation method:
At the bottom, remove the screw with a screwdriver, install AA batteries 3 pack, and tighten the screw. Turn on power switch, and then press the press here to start, stop, and switch songs
Dancing Cactus Operation Process:
1. At the bottom, remove the screw with a screwdriver, install AA batteries 3 pack, and tighten the screw.Black button at the bottom:ON; 2. Press the label button on the cactus,cactus can sing;
3 . Press repeatedly to switch to the next song - 3 songs
Suitable as a gift:prime day deals,gifts for father's day,independence day home table decoration,prime day deals 2021 tv,father's day gifts for boyfriend,independence day decor,deal of the day prime today,father's day gift,prime deals of the day today only,father's day decorations,when is prime day 2021 date,gifts for father's day from daughter,prime day gift ,father's day gifts for grandpa,prime day 2021,best father's day gifts for grandpa,prime day deals 2021 date,funny father's day gift,Prime day's,father's day gift ideas,prime day specials,1st father's day gift
| | | |
| --- | --- | --- |
| cactus plush toy can dance, sing,Fun and lovely dancing cactus toy cactus plush toys,With the singing and humorous dancing, children's attention will be aroused and joy will be brought to them! | Adults can also decompress - decompress cactus dancing toy - Give a gift to a friend,Suitable for amazon prime day deals 2021,father's day gifts,independence day decorations,same day delivery items prime, early prime day deals,father's day gifts for husband,father's day gifts for dad,independence day decorations outdoor | Adults can also decompress - decompress cactus dancing toy - Give a gift to a friend - cactus dancing、cactus dancing toy、dancing cactus、dancing cactus plush in pot、dancing cactus toy、funny dancing cactus plush toy、plush toy cactus、twist dancing cactus |
Specification

Material: pp cotton
Size: 12.36 x 7.17 x 4.72 inches

Weight: 7 ounces

Color: Green
Package Included: 1 x Singing Dancing Cactus Plush (requires x3 AA batteries not included)