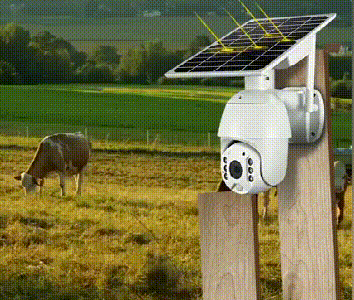 No need power and WIFI,You can get instant live stream from mobile device with this Solar Powered Wireless Outdoor Security Camera!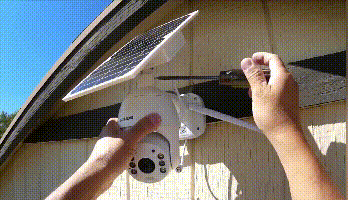 Solar battery Powered outdoor security Camera,100% Wireless and easy to install,Perfect for your house,farm,parking lot,garden and anywhere you want to monitor.

You can easily control the security camera to rotate 350° horizontally and 100° vertically to cover every angle of your house.
More Sensitive Digital PIR Sensor - Protect your property and send timely and accurate alerts. barely fault alarming.
Free App and instant push message- Live view, playback the videos in the Cound and Micro SD card and download record manually videos
Color Night Vision -Feature with 4pcs White LEDS and 2pcs infrared LEDs, it enables sharp night vision up to 32 feet even in the night. And 1080p high-resolution images make you never miss any details.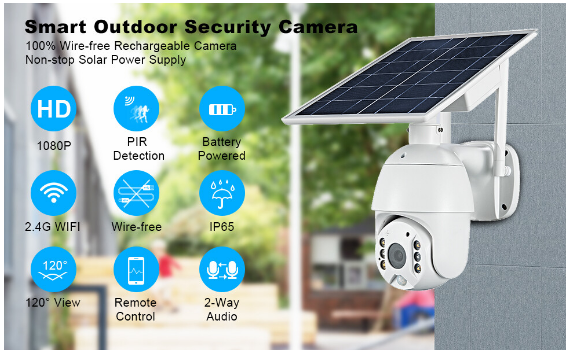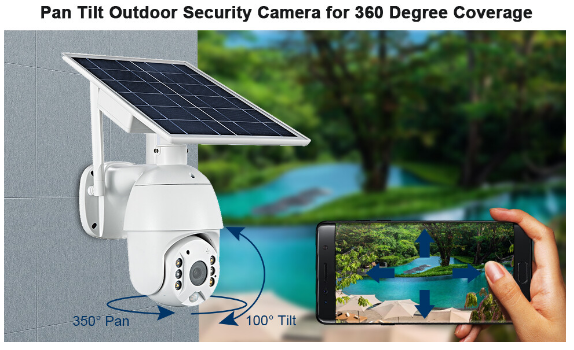 Highlighted Features:
Built-in rechargeable 12000mah battery
350° horizontal, 100° vertical and FOV 120° lens angle
1080p HD live view with starlight night vision
H.265 advance video compression technology
Loud two-way talk with noise cancellation
Remote access through UBOX app
802.11 b/g/n 2.4G Wi-Fi connection(Not support 5G)
Weather Resistant between -4℉ to 140℉ (-20℃~+60℃)
Wall mounting base with adjustable solar panels and camera angle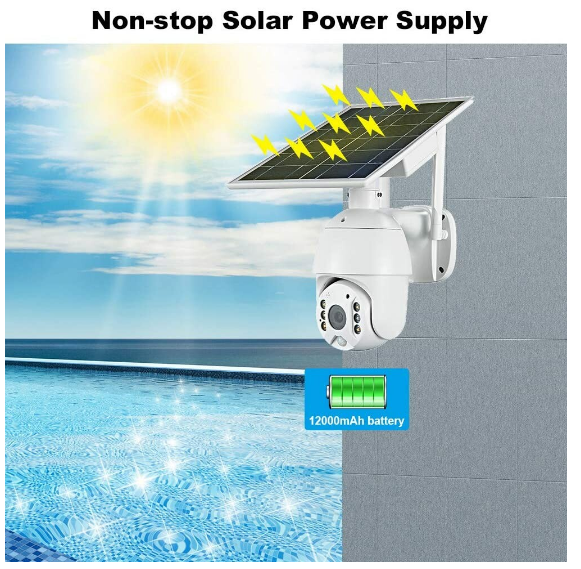 Non-stop Solar Power supply
Keep your waterproof camera charged by Solar Panel. This home security camera system is designed to fit in any place, portable, wire-free and hassle -free.It is always ready for extreme environments with Weatherproof certification.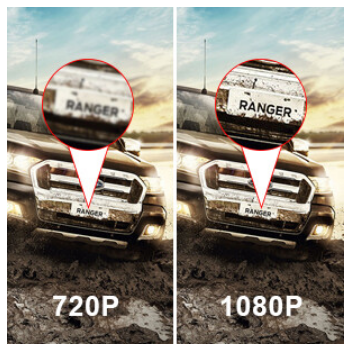 Full HD 1080P
The outdoor security camera has a resolution of 1080p (1920 x 1080) at 30 frames per second. It provides the highest quality in pictures and videos regardless of the weather.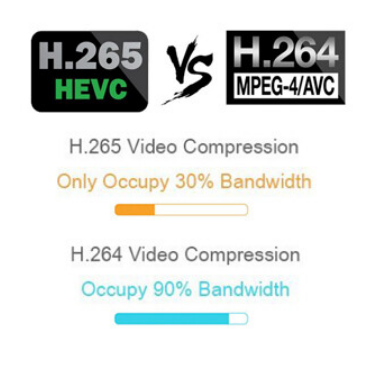 H.265+ Video Compression
Improves image quality and reduces bandwidth requirements. H.265X format provides superior improvements in image quality and bandwidth. It also allows for faster, more fluid remote viewing.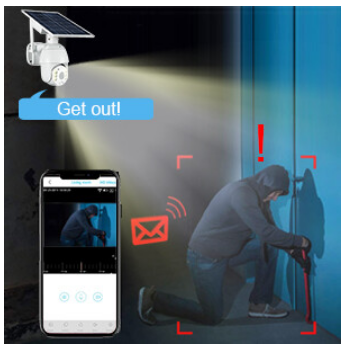 Guardian
When someone tries to invade your realm, it will issue voice warnings and turn up the 4 LED spotlights, at the same time, sending a notification (real-time snapshots) to your phone with a picture and link to take your directly to the event. You can even Tease the intruder by two-way audio, and the SD card will record this funny moment.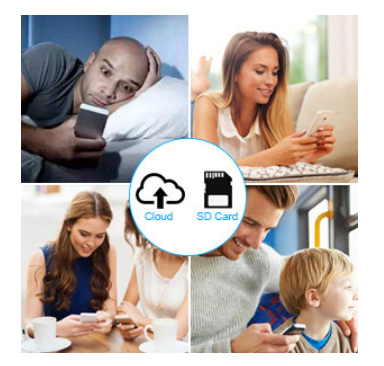 Remote Access Anywhere Anytime
This solar camera supports maximum to 10 users to live streaming at the same time.Cloud storage automatically stores the recorded video when it is triggered,and it supports up to 128GB SD card(C10 or above,FAT32).You can see remotely all clear and crisp live footage from your phone. Compatible with iOS, Android, Windows and Mac devices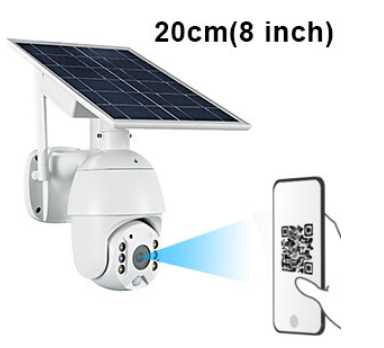 Easy to Pair
WiFi solar camera is super easy to pair. It only takes about 3 minutes to setup and place it anywhere!Simple tools are needed for installing outdoor mounts.After download the phone App, just let the camera scan the QR code generated by App, it automatically connects your internet.
Two Ways Installation for Solar Powered Outdoor Security Camera Wireless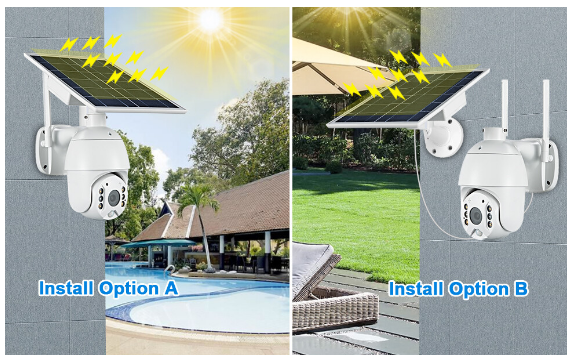 Technical Details:
Field of View: Pan & Tilt: 350° horizontal, 100° vertical and FOV 90° lens angle
Video: 1080p HD, Live View, Spot light Colorful Night Vision
Motion Detection: Accurate PIR sensor with angel 155° and Range more than 18ft
Audio: Loud Two-way talk with noise cancellation
Power: Large Solar panel with battery box ( 9000mAH-3pcs 3000mAH battery preloaded and you can install extra 3pcs 18650 battery to battery box)
Connectivity: 802.11 b/g/n Wi-Fi connection @ 2.4GHz (NOT SUPPORT 5G 802.11 ac WiFi)
Internet Requirements: Requires a minimum upload speed of 2Mbps for optimal performance.
Operating Conditions: Weather Resistant between -4℉ to 140℉ (-20℃~+60℃)
Mounting Base: Wall mounting base with adjustable solar panels and camera angle. Install height recommendation of 9 feet approx.
Dimensions: 11.3 in x 7.8 in x 6.6 in (28.6 cm x 19.8 cm x 16.8 cm)
Installation: Average install time: 10-15 minutes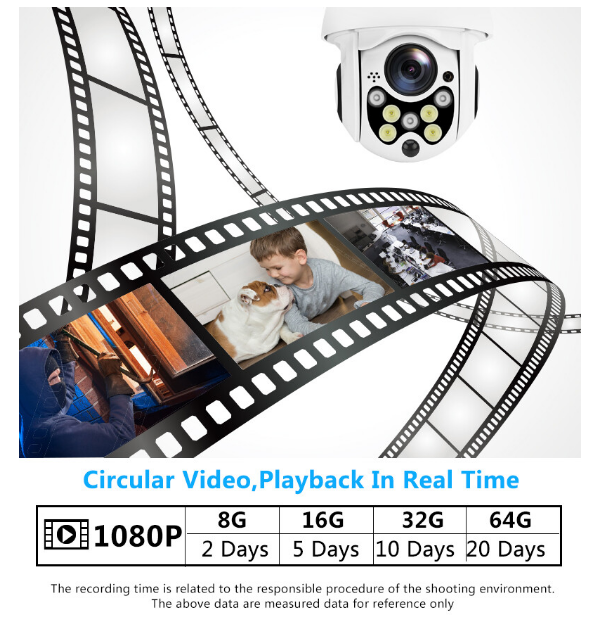 PACKAGE INCLUDES: 
ULTRA HIGH SPEED CARD TO STORE IMAGES AND REAL-TIME VIDEO:
SOLAR POWERED CAMERA:
1x SOLAR POWERED CAMERA
1x Screw Pack
1x User manual
1x Screwdriver
1x 12V2A Power Adapter
 SHIPPING
Shipping depends on location.

Some distant areas can take a bit longer. But we'll get it to you