WIRELESS DOOR STOPPER ALARM is a portable alarm that make 120db alarm when triggered, helps alert homeowner or renter to deter intruder and possibly help notifies neighbours and also security authority.
EASY INSTALLATION – no wiring needed; battery-operated (requires 1x9V battery, not included); place it under the door, the gap between the bottom of the door and the floor should be 10mm(0.38 in) to 35mm(1.35 in),it can not slide on tile when door opens, smooth floor can try to use H-type sensitivity, vibration-sensing alarm.
3 SENSITIVITY LEVELS – Low – Medium – High, with an adjustable sensitivity switch on the side;H level is the most sensitive level that vibration will trigger an alarm; please note when the alarm sound gradually becomes smaller, it means to replace the new battery.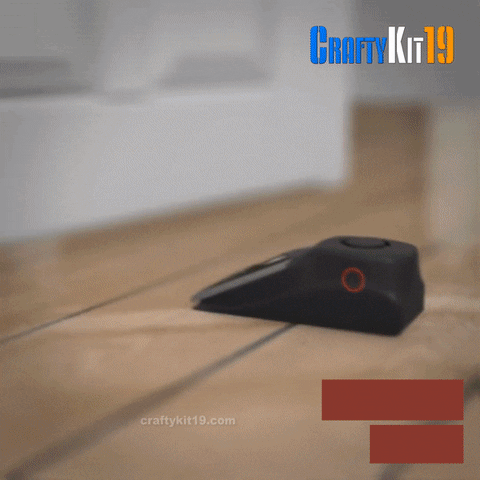 PORTABLE DOOR STOPPER ALARM – package include 3 door alarms, each weight about 120g; easy to carry; alarm loud 100db to protect you; great for travel; ideal for bedrooms, hotels, apartments, dorm rooms, front doors, etc; peace of mind when traveling or working alone.
PACKAGE INCLUDED:
1 set 120db Mini Alarm Door Stop Alarm (Battery Excluded)