Easily polish the rusty chisel in your home
Chisel Sharpener is made up of high quality material which is stainless steel, so it is resistant to rust and corrode.
Feature
Support chisel max clamping width to 55mm,Support plane iron max clamping width to 80mm
When sharpening the knife, the blade edge is smoothly fitted to the oil stone, and the angle is easy to grasp, the center of gravity is stable, and it is not easy to slip.
How to Use: Turn the screw cap counterclockwise, clamp your chisel or other knife tools, move up and down to adjust freely blade angle. Then tighten the screw cap clockwise, blade edge is smoothly fitted to the whetstone or sharpening stones, slide the knife back and forth until your tools becomes sharper and more precise.
Brass pulley,Sliding back and forth during grinding is not limited, keeping the direction consistent, and the slip is smooth and safe.
Multipurpose Tools: This Honing Guide can be used for Wood Chisel, Planer, Blade, Graver, Carving Knife, Plane Iron, Flat Chisel Edge Sharpening.Helping you to be a better handicraftsman.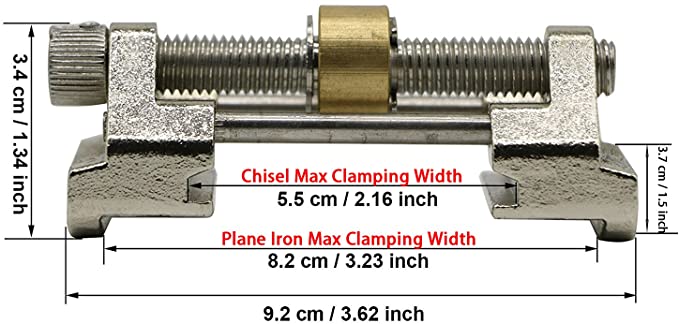 Specifications:
Material: Stainless Steel
Weight: 277 g / 9.8 oz
Clamping Width Range: 5 mm - 82 mm / 0.2 inch - 3.2 inch
Size: 9.7 x 4 x 3 cm/ 3.8 x 1.57 x 1.2 inch(L*W*H)
Package Include: 1* Wood Chisel Sharpener